TOUR OF LIVORNO ON BOARD THE ITINERA MARCO POLO BOAT
Discover Livorno from a new prospective.
The boat tour along the Medici canals is the best opportunity to get to know Livorno from a historical, architectural and folkloristic point of view.
During the navigation we will pass through the characteristic quarters of the city, Pontino, Venezia, Ovo Sodo and admire ancient fortresses, historic and imposing buildings, typical fishermen's cellars open on the water that still preserve the seafaring tradition of the past.
A view of the Medicean harbour will widen the panorama until the islands of the Tuscan archipelago can be seen on the horizon.
The classic boat tour to discover the Medicean Livorno with 3D bone conduction audio guides or a tour guide.
"Aspettando MareDiVino": Giro di Livorno in battello con degustazione di vini locali.
Cooperativa Itinera. Progetto co-finanziato dal POR FESR Toscana 2014 – 2020

PROGETTO SMIDE - SMART IDENTITY DESTINATION - TOUR DEI FOSSI IN BATTELLO A LIVORNO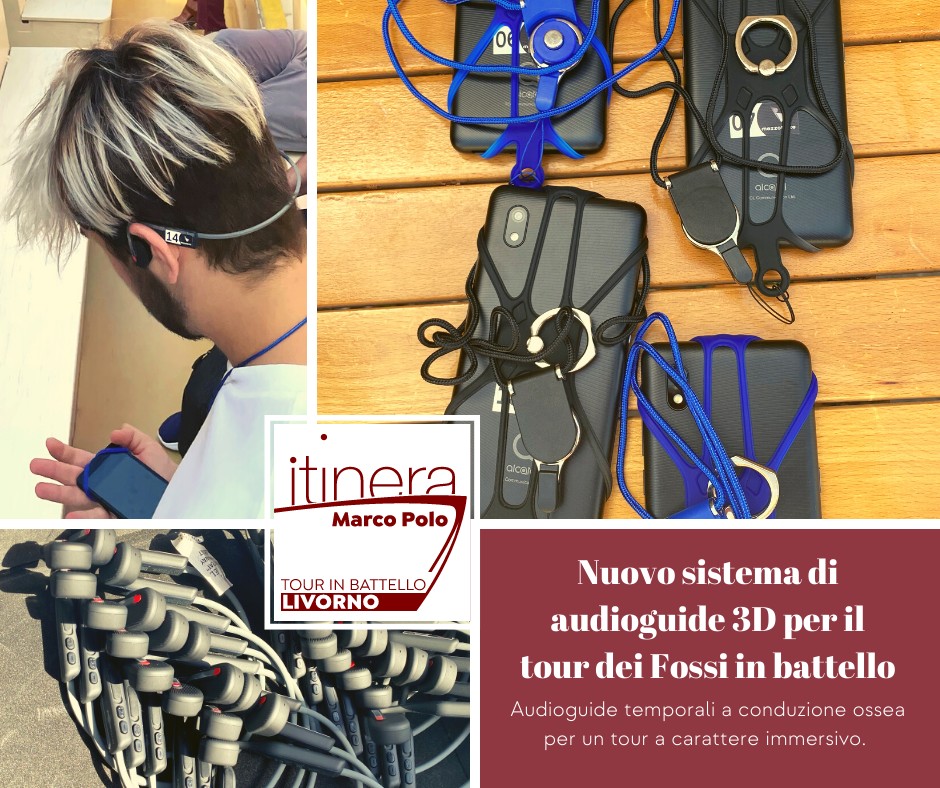 A new 3D bone-conducting temporal audioguide system for an immersive experience in total harmony with the outdoor environment and surrounding people.
Coop. Itinera chose to give the experience a contemporary and international scope, treasuring the local cultural and sound heritage: the narrator's voice in Italian is that of Leghorn actor Leonardo Fiaschi and thanks to the technical realization of the Mezzoforte Company, audio materials were produced through binaural recordings of various scenes of city life in its most picturesque neighborhoods.
Beyond classic headphones
In fact, bone conduction headphones are an innovative technology that allows us to bypass the eardrum and transmit sound directly to the bones, allowing us to continue to hear and perceive external sounds.
This is the new frontier on which Coop. Itinera wanted to invest with the aim of improving one of the city's most characteristic tourist services for an augmented sound reality and multilingual (Italian, English, French, Spanish and German) travel experience.